Salam Selasa semua!! no more monday blues. jom kita start hari dengan ceria-ceria. so kali ini aku nak bagi information sikit. JOHO akan organize
'Workshop: The Making of a JB Anthology'
. workshop ini akan diadakan by next week. 30 May 2010. Sunday. 12.00pm-5.00pm. location di JOHO/Lost Malaya. yang paling bestnya, workshop ini dihandle oleh saudara Amir Muhammad. bukan senang tu nak bawak Amir Muhammad.

Amir Muhammad ini merupakan penulis and indipendent filmmaker based in Kuala Lumpur. dia lebih terkenal di akhbar New Straits Times di awal-awal kemunculan dulu. terdapat juga filem-filem yang dia buat kene banned di Malaysia seperti The Last Communist. Korang penah tengok cerita SUSUK? if korang penah, Amir Muhammad ni lah director dia. so aku rasa tak rugi korang ke workshop ini. macam-macam korang boleh belajar. dari A sampai ke Z.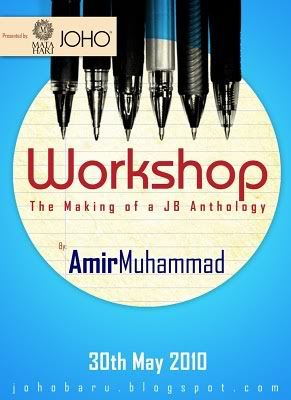 Group Size: 20 people ( 1st come 1st serve)
Price: RM 50 (prior to 20 May)/ RM60 (after 20 May)
p/s: korang rasa mahal ke? mana nak dapat Amir Muhammad dengan harga RM50? dekat Kuala Lumpur boleh dapat harga ini? tak rugi if korang join. and boleh meet-meet ahli-ahli JOHO yang lain disana! hope jumpa disana! Chill!!